CONTACT
Please email, text, whatsapp or fill in the contact form and we will be in touch within 24 hrs. If you do not hear from us, our emails might have gone to your spam folder or you have provided us with an invalid email address.
Studio Hours & Location
Stone Signage.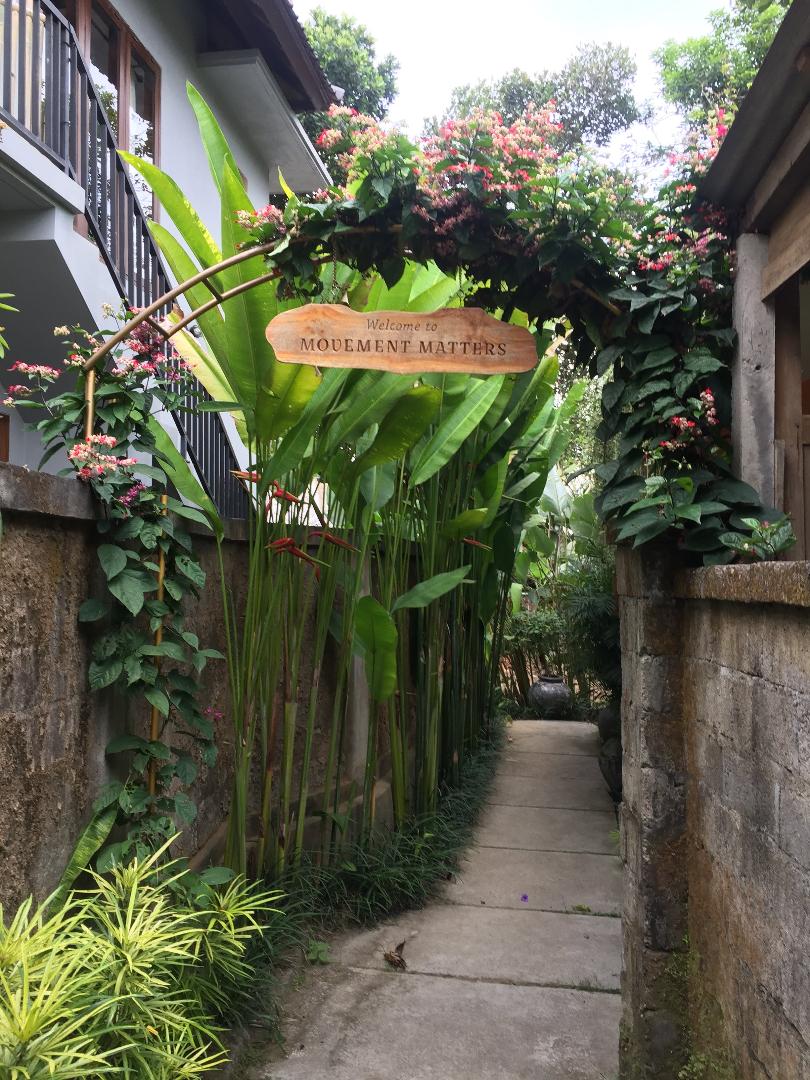 Right next to the motorbike parking lot you will see this wooden sign entrance that leads to our studio.
Address
No.5, Banjar Nyuh Kuning, Jl. Nyuh Bulan, MAS, Bali, Kabupaten Gianyar, Bali
Phone
General enquiries: +62 813 3935 9995 (whatsapp text only or text)
Email
Studio Appointment Hours
Mon-Fri 7:00am – 7:00pm
Sat 7:00am -3:00pm
Sun Closed
Front Desk Hours
Mon-Fri 8:00am – 5:30pm
Sat 8:00am -12.00pm
Sun Closed
Direction
We are located in the same village as Yayasan Bumi Sehat(the natural birthing center), behind a Balinese family house No.5 . Look for our stone signage at the entrance of the drive way to our studio. We are less than 100m from Bali Spirit Hotel, and a couple of houses down from Sage Restaurant.
Coming east from Ubud on Jalan Raya Nyuh Kuning
Drive along Jl Raya Nyuh Kuning until you see Bali Spirit Hotel on your left, make an immediate right turn into Jl Nyuh Bulan; we are behind the second house on your left. (The entrance to Jl. Nyuh Bulan has two Monkey statues and Sage Restaurant is on your left)
Coming west from Singakerta/Sayan
After you drive past the bridge, make a left turn into Jl Nyuh Bulan at the top of the hill(where Sage Restaurant is); we are behind the second house on your left.
Coming from central Ubud via Monkey Forest
(motorcycles, bicycles, and pedestrians only, no cars)
Come down the street until you pass a football/soccer field on your right, make a quick right turn and then follow the road past the field and to the left. Continue towards the end of the Jl Nyuh Bulan; we are behind the second to last house on your right.
Parking
We have motorbike parking in front of studio. Come down the driveway and the parking space is on your left.
Car parking is available on the street. Please park your car on the right side of the road. Kindly pay attention to this as the village security team is very strict about it.
Walking distance from the street to the studio is about 30m.
Entrance fee
The village collects a fee, currently set at Rp2,000 from every car(motorcycles are exempted)that comes into the village.